Local Projects
Libraries for All - Austria / Bibliotheken für Alle - Österreich
okay.zusammen leben/Advice Center for Migration and Integration (Austria)
The final project documents (e.g. guideline, manual, regional report) are available for download in the section Products.
Other materials referring to the local project activities are to be found on the webpage Results.
Libraries for All - Austria
Project Objectives, Specifically Addressed Target Groups and Indicators of Success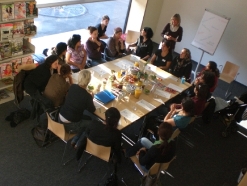 The "Libraries for All" project aims to make Vorarlberg's local libraries aware of their potential both for promoting the social integration of immigrants as well as for supporting, fostering and shaping the new cultural diversity of Vorarlberg's society. Specific pilot projects aim to gather experiences for implementing similar projects in the region. In this sense, libraries target people with immigrant backgrounds as well as members of the "majority society." Libraries should meet the specific learning and educational needs of immigrants, while providing the majority population with the opportunity to experience and participate in the linguistic, ethnic and religious diversity of their community. Target groups that were specifically addressed in the project included parents from immigrant backgrounds, women from immigrant backgrounds, new immigrants, professionals working in the area of integration (e.g. language promoters in kindergartens, child-care services and primary schools), immigrant organizations and all people interested in the cultural diversity of their local environment.

It was therefore a clearly defined objective of the Vorarlberg projects to address target groups that were new to both of the local public libraries involved, to get these people into these institutions and win them over as regular users. From autumn 2009 to summer 2010, 718 people visited the various events organized within the scope of the project (e.g. cultural events, seminars for parents, discussion groups for women, conversation courses in German for new immigrants, reading activities for children, etc.) which took place in the two pilot project libraries. 156 newly issued library cards as well as 1,318 loans directly related to project activities are further indicators of the success of project activities and, in particular, of the registration of long-term library users.

Summary of the Specific Services of the Pilot Project Libraries
Expansion of Library Holdings
First, both libraries had to expand their holdings by investing in specific books and media for the new target group. They primarily focused on books and media for children/young adults and adults in the languages of the larger immigrant groups in their municipalities. The inventory lists for these purchases were researched by members of the Advisory Board and coordinated by "okay.zusammen leben". Both these groups also provided support for libraries ordering literature in the countries of origin of immigrants or were helpful in establishing contacts between libraries and sellers. Librarians also researched their professional mailing lists and newsletters and discovered that these were already regularly informing recipients about a great deal of foreign-language literature, especially about literature in the languages of immigrants. A second thematic focus for these new library holdings comprised professional literature for people working in integration in the communities, particularly for educationalists. This need was identified during onsite research conducted on the development of products.

Multilingual Information
Both libraries also invested in multilingual information material (folder, homepage) about their library holdings and services and in introductory events with interpreters for such specific groups as the parents of kindergarteners and schoolchildren with immigrant backgrounds, immigrant associations, women's groups etc. These target groups were contacted via the institutions, associations and networks with which the libraries cooperated. Often the libraries let these institutions and networks use library facilities for their events and used the presence of new visitors to acquaint them with the library and its services, which resulted in the issuing of numerous new library cards to both men and women. Members of the Advisory Board also offered their services as translators, interpreters and as intermediaries with immigrants active in institutions and immigrant associations.

Family Literacy
An important focus was parent education for families with immigrant backgrounds, particularly, but not exclusively regarding questions of early language acquisition. In cooperation with "okay.zusammen leben" the libraries developed attractive workshops for parents as well as evening lectures. They regularly opened up their facilities for kindergarten and school parents' evenings, at which as an added feature they conducted tours of the library. They set up specially marked corners in the library with picture books in immigrant languages or in bilingual and multilingual picture books and with games to support early language acquisition. They also distributed the extensive multilingual parental information material that had been especially created by "okay.zusammen leben" for questions relating to the early language acquisition of children with immigrant backgrounds. With these activities, the libraries became communal learning centres for parents with immigrant backgrounds, providing information and support on multilingual language development for children.

Cultural Events as Meeting Points
Under the banner of "Meine Sprache – Deine Sprache – Unsere Sprache(n)" ("My Language – Your Language – Our Language[s]"), numerous language and cultural events revolving around the languages of immigrants to Vorarlberg took place in both libraries as part of the project, with a particular focus on Lustenau Library: readings, lecture evenings, poetry and music performances. These events were co-organized with immigrant associations and initiatives. As a result, libraries became venues and sites of cultural diversity in the community.

Acquisition of the National Language
Although it played a minor role in library services within the aims of this project, learning German was also addressed. Götzis library organized "Deutsch zum Frühstück" ("German for Breakfast") together with the local adult education centre: a German conversation class for women who wanted to improve their German. These women, who were also enrolled in a German course at the adult education centre, met once a month in the library to read newspapers and to have conversation practice and breakfast. Lots of the women also later became members of the library.

Project Information Links:
www.okay-line.at / Module "Aktuelles"
www.lustenau.at/bibliothek/
www.bibliothek-goetzis.at


---
Bibliotheken für Alle - Österreich
Projektziele, spezifisch angesprochene Zielgruppen und Erfolgsindikatoren

Das Projekt setzte sich zum Ziel, Vorarlbergs lokale Bibliotheken auf ihr Potenzial für die Förderung der sozialen Integration von Migrant(inn)en sowie den Aufbau, die Pflege und den Umgang mit der neuen kulturellen Diversität der Vorarlberger Gesellschaft aufmerksam zu machen. Konkrete Pilotprojekte sollten Umsetzungserfahrung in die Region bringen. In diesem Projektverständnis sind sowohl Menschen mit Migrationshintergrund als auch Angehörige der sogenannten "Mehrheitsgesellschaft" Zielgruppen von Bibliotheken. Migrant(inn)en sollen in unseren lokalen Bibliotheken Angebote für ihre spezifischen Lern- und Bildungsherausforderungen erhalten. Die Mehrheitsbevölkerung kann dort die lokal präsente sprachliche, ethnische und religiöse Diversität erfahren und an ihr teilhaben. Im Projekt in besonderer Weise angesprochene Zielgruppen waren: Eltern mit Migrationshintergrund, Frauen mit Migrationshintergrund, Neuzugewanderte, professionelle Integrationsakteure (bspw. Sprachförderer und Sprachförderinnen in Kindergärten, Kinderbetreuungseinrichtungen und Volksschulen), Migrantenorganisationen und Interessierte an der kulturellen Diversität ihrer lokalen Umgebung.

Konkretes Ziel der Projekte in Vorarlberg war es, Zielgruppen, die für beide beteiligten lokalen öffentlichen Bibliotheken neu waren, anzusprechen, sie über die Schwelle der Institution zu bringen und sie nachhaltig als Nutzer und Nutzerinnen zu gewinnen. 718 Besucher und Besucherinnen fanden von Herbst 2009 bis Sommer 2010 für die verschiedenen Veranstaltungen im Rahmen des Projekts (kulturelle Veranstaltungen, Seminare für Eltern, Gesprächsrunden für Frauen, Konversationskurse für Deutsch für Neuzugewanderte, Leseaktivitäten für Kinder etc.) ihren Weg in die beiden Pilotbibliotheken. 156 neue Leseausweise, die konkret im Zusammenhang mit Aktivitäten des Projekts ausgestellt werden konnten, sowie 1.318 direkt im Zusammenhang mit Projektaktivitäten stehende Entlehnungen sind Indikatoren für den Erfolg des Projekts insbesondere im Sinne einer nachhaltigen Gewinnung von Nutzer(inne)n.
Zusammenfassende Beschreibung der konkreten Angebote der Pilotbibliotheken
Bestandserweiterung
Beide Bibliotheken mussten zunächst in den Aufbau eines spezifischen Bestandes an Büchern und Medien für die neue Zielgruppe investieren. Sie konzentrierten sich auf Bücher und Medien in den Sprachen der größeren Migrantengruppen ihrer Gemeinden, ausgewählt für Kinder und Jugendliche auf der einen und Erwachsene auf der anderen Seite. Die Bestandslisten für diese Literatur recherchierten Mitglieder des Advisory Boards, koordiniert von der überregionalen Integrationsfachstelle "okay.zusammen leben". In den Fällen, in denen diese Literatur in den Herkunftsländern der Migranten bestellt werden musste, waren diese auch beim Bestellvorgang behilflich und stellten Verbindungen zu Bezugsquellen in diesen Ländern her. Die Bibliothekare und Bibliothekarinnen recherchierten in ihren Fachverteilern und -newslettern und entdeckten, dass dort mittlerweile regelmäßig über Literatur in vielen Sprachen, insbesondere auch in Migrantensprachen, informiert wird. Einen zweiten Schwerpunkt des thematischen Bestandsaufbaus bildete Fachliteratur für Integrationsakteure vor Ort, insbesondere für Pädagog(inn)en. Dieses Bedürfnis war bei den Sondierungsgesprächen für die Entwicklung der Produkte vor Ort hervorgetreten.

Mehrsprachige Information
Beide Bibliotheken investierten auch in mehrsprachiges Informationsmaterial über ihre Bibliotheksangebote (Folder, Homepage) und in Einführungsveranstaltungen für spezifische Gruppen, die mit Dolmetschangeboten durchgeführt wurden: für Eltern von Kindern mit Migrationshintergrund in den Kindergärten und Schulen, für Migrantenvereine, für Frauengruppen etc. Angesprochen wurden diese Zielgruppen über Institutionen, Vereine und Netzwerke, mit denen die Bibliotheken kooperierten. Vielfach stellte die Bibliothek ihre Räumlichkeiten für Veranstaltungen dieser Institutionen und Netzwerke zur Verfügung und nutzte die Anwesenheit der neuen Besucher/-innen, um diesen die Bibliothek und ihre Angebote vorzustellen. Bei diesen Gelegenheiten konnten zahlreiche neue Leseausweise an den Mann und an die Frau gebracht werden. Auch hier waren Mitglieder des Advisory Boards als Übersetzer/-innen, Dolmetscher/-innen und "Brücken" zu Migranten in Institutionen oder Migrantenvereinen eingebunden.

Family Literacy
Einen wichtigen inhaltlichen Schwerpunkt bildete die Elternbildung für Familien mit Migrationshintergrund, nicht nur, aber insbesondere zu Fragen des frühen Spracherwerbs. Die Bibliotheken veranstalteten – in Kooperation mit "okay.zusammen leben" – attraktive Workshops für Eltern sowie Vortragsabende. Sie öffneten ihre Räume für die regulären Elternabende von Kindergärten und Schulen und boten in diesem Rahmen als Zusatzservice Führungen durch die Bibliothek an. Sie richteten räumlich speziell markierte Bibliotheksbereiche mit Bilderbüchern (in Migrantensprachen oder in zwei- und mehrsprachigen Ausgaben) und Spielen für die Unterstützung des frühen Spracherwerbs ein. Und sie wirkten als örtliche Verteiler für das von "okay.zusammen leben" eigens für die Fragen des frühen Spracherwerbs von Kindern mit Migrationshintergrund produzierte umfangreiche mehrsprachige Elterninformationsmaterial. Mit diesen Aktivitäten wurden die Bibliotheken zu kommunalen "learning centers" für Eltern mit Migrationshintergrund zu Fragen der mehrsprachigen Sprachentwicklung und den diesbezüglichen Fördermöglichkeiten für Kinder.

Kulturelle Veranstaltungen als Begegnungsanlässe
Unter dem Motto "Meine Sprache – Deine Sprache – Unsere Sprache(n)" fanden im Projektzeitraum in beiden Bibliotheken, mit Schwerpunkt jedoch in der Bibliothek Lustenau, zahlreiche sprachkulturelle Veranstaltungen zu den Sprachen Vorarlberger Migranten statt: Lesungen, Vortragsabende, Lyrik- und Musikperformances. Sie wurden in Kooperation mit Migrantenvereinen und Migranteninitiativen durchgeführt und machten die Bibliotheken zu Begegnungsorten und Repräsentationsräumen der kulturellen Vielfalt vor Ort.

Erwerb der Landessprache
Auch das Thema "Deutscherwerb" durfte nicht gänzlich fehlen, auch wenn es im Rahmen der in diesem Projekt entwickelten Bibliotheksangebote eine eher untergeordnete Rolle spielte. Die Bibliothek Götzis führte in Zusammenarbeit mit der örtlichen Volkshochschule das Angebot "Deutsch zum Frühstück" durch: ein Deutschkonversationsangebot für Frauen, die an ihrer Deutschkompetenz arbeiteten. Diese Frauen lernten in der Volkshochschule in einem Deutschkurs und trafen sich darüber hinaus monatlich in der Bibliothek zu einem Frühstück mit Zeitungslektüre und Konversation. Auch aus diesem Angebot gingen zahlreiche spätere Nutzerinnen der Bibliothek Götzis hervor.
Links zu Projektinformationen:
www.okay-line.at / Modul "Aktuelles"
www.lustenau.at/bibliothek/
www.bibliothek-goetzis.at