Relevant Sources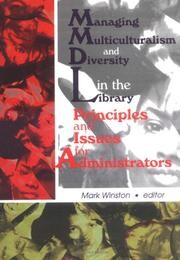 Managing Multiculturalism and Diversity in the Library: Principles and Issues for Administrators
Author: Mark Winston (ed.)
Publisher: Routledge; 1st ed. (July 2, 1999)
From this manual, you will gain a deeper understanding of diversity and its implementation in your library. Scholarly and poignant, this book is recommended to academics, administrators, library professionals, and students who want to improve the diversity of libraries and the profession of library information science. In Managing Multiculturalism and Diversity In the Library, you will explore the continued need to keep diversity growing in our libraries as a learning tool to boost the creativity and broaden the knowledge base of libraries as a whole. This informative guide provides you with studies on the diversification efforts of Australia, Canada, China, and the United Kingdom, showing you how each nation differently defines diversity, yet values diversity with an agenda that accepts and encourages cultural differences. You will find suggestions on how to bring in the talents of traditionally excluded groups into your library and examine affirmative action and its dismantling from different angles. Managing Multiculturalism and Diversity In the Library illustrates the importance of cultural diversity in contrast to a melting pot that does not allow for distinct flavors. Some pertinent areas of diversity that you will read about are:
* raising staff awareness of diversity through training seminars
* a diversity program focused closely on your library's missions and strategic plans
* integrating diversity into every aspect of the library activities
* looking to colleges and universities as the leaders of cross-cultural understanding
* American Library Association and the diversity agendaManaging Multiculturalism and Diversity In the Library is an enlightening and helpful resource to foster multicultural understanding and to plan a diversity agenda that is right for your library organization. From this book, you will find many interesting and informative methods on creating a culturally pluralistic library.