Best Practices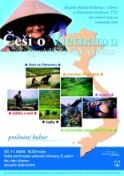 Blending Cultures or Do We Know Each Other? A Series for and About Minorities.
[Liberec Research Library, Czech Republic]
Through their participation in the series, members of minorities should find it easier to adapt in the new society: they are offered a great opportunity to learn about others and to be a part of a tolerant and friendly milieu. The library believes that a practical experience is the best way of getting to know other people. The series is open to all people willing to come and learn something new, be it high school and university students, library users, members of the general public or members of minorities. The series is not composed only of boring lectures; each evening has a different program. The program moves from 'serious' topics (history, geography, culture) to 'lighter' topics (family, food, music, theatre or hobbies) and then to specific examples and illustrations: singing, music, dance, film, photos, entertainment or food sampling. Of course, there is always time for questions and answers. Each evening's host is experienced in the discussed topic and is resourceful enough to improvise and handle unexpected situations. Each evening is a small adventure. If some guests do not speak Czech, we have an interpreter. There is always an accompanying exhibition presenting books related to the given minority. The series is advertised on the Internet, in the regional newspaper and on posters.
Source: Libraries for All (MKC Prague, 2005).
CONTACT Regional Research Library Rumjancevova 1362/1, 460 53 Liberec Czech Republic